SMALL BATCHES. BIG IDEAS.
When you can't find exactly what you want, sometimes you just have to dig in and create it yourself. In early 2016, that's precisely what we did. Nate began putting together small batches of natural ingredients to create an easy-to-use, water-based product that had incredible hold, with a natural feel and pliable texture – something that didn't really exist at the time. We'd love to say our first batch was flawless, and we launched our business the next day, but that's just not how life works.
After the first few batches, it seemed as though Nate was better at making candles than he was at producing pomade … but he stuck with it. And a few months later, our Original Pomade was born. We had finally pioneered a new pomade that was everything we had been looking for. Once Nate's extensive research and formulating started to show promise, Christian hopped on board, and we made the jump from a small passion project to a full-fledged business. And in August of 2016, we released our first production batch of Ace High Original Pomade to the public.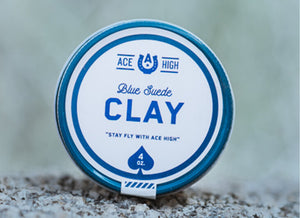 In the early days, finding time for production was difficult, but we always had a blast because our passion for our products pushed us to stay motivated. Oftentimes, we would have to work during the wee hours of the night to utilize the commercial kitchen of our coffee shop. Our methods were definitely not ideal, but eventually we perfected the process. And with the help of a modified crockpot and many sleepless nights in the kitchen of our coffee shop, we produced the first 25 official jars of Ace High Original Pomade.
FLYING HIGH
Since launching our Original Pomade, we've developed a full Ace High product line that includes Pomade, Beard Balm, Tonic, Shampoo and Conditioner. We've moved past the crockpot to an actual production space in our own red brick building with a rad staff dedicated to production and manufacturing.
It's been an incredible journey so far, and we can't wait to see what the future has in store. Thanks to our loyal fans, we get to make products we love and share them with the rest of the world. And for that, we can't thank you enough.