How to Apply Ace High Original Pomade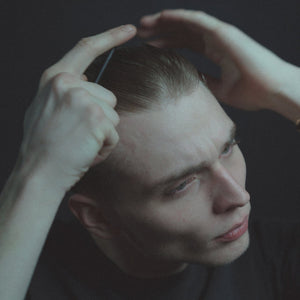 Tips n' Tricks
The bottom of our labels share "the two step"
1. Apply to damp hair while styling.
2. Look swell.
But admittedly, this doesn't tell you that much. But you have to admit the "two step" pun is kinda funny right? Like the western dance you know? Well we thought it was funny. But while there isn't a whole lot more to it than that, there are some tips we can give you for getting the best styles with Ace High Original Pomade.
Damp Hair
We recommend applying our original pomade to damp hair, not sopping wet and not quite bone dry. Towel dry the hair until it doesn't feel wet but still has some moisture to it. That moisture will help make application a bit easier and will help ensure your hair doesn't start to fall into an uncontrolled position. It's also good to make sure you aren't being too aggressive with your towel drying, as that will increase the frizz of your hair. Instead, try to run the towel in one direction at a time to keep your hair straight in each direction until you reach the desired level of dryness. If you want to get some extra volume you can throw a touch of product in, blow dry while brushing, and then apply more product. Don't worry though, you can achieve some great volume without a blow drier, so its definitely not a need with our products!
Scooping and Applying
Scoop out the desired amount of product and spread it evenly in your hands. Don't just go straight for the hair with a big ole glob of pomade. Make sure its evenly spread in the hands and that'll make the next steps so much easier.
Amount of Product
The amount of product you use will depend a bit on the length of your hair and the desired style. The most important thing to remember is that you can always apply more, so apply the product in small scoops at a time and keep adding until you find you're where you want to be with it. Play around with amounts and see what works for you, but just remember to add in small bits because it's a whole lot easier to apply more than to take product out!
Styling
This part is sort of up to you. Some people like to slick it back, some like it to the side. Some like it neat while others like it to look more effortless. Choose a style that suits your hair type and your general style. If forming a part, make sure to work with the hair, creating a clean part line as you use the product to slick the hair to either side of it. For slick backs, you can apply a bit more product on top of the hair and really slick it straight back with a comb or brush. For a bit of lift up front you'll need to make sure the hair sort of curves up and back as opposed to a straight back movement.
Even Application
This is a big one here! We designed our pomade to be really creamy to ensure the product can be evenly applied with ease, as even application is essential to good hair styling. If you just throw pomade on top of your hair, it's just going to weigh down the hair. So try to make sure you actually apply the product from the back to the front first, pulling your hair forward, then applying from front to back as you slick it back, raking with your fingers as you do so. It's good to do this from each side as well. These steps will help ensure that you are applying the pomade to the roots of the hair as well, as evenly as possible, which will help give some lift to your hair and give the pomade on top something to stick to for that perfectly formed style. After applying with the fingers, grab a brush or comb to style it precisely.