Making Hair Products in a Global Pandemic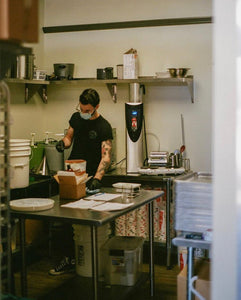 Navigating 2020
2020 was to be a big year for ace high. We'd scrutinized over plans in the latter portions of 2019 on what things would look like, what we'd try to execute, what we wanted to accomplish. We'd just moved our facility to our new space on woodward in Ferndale, with about 4 times the space for production, offices, and for hosting community events and education sessions. 2020 was set to be a year of outward growth.
2020 had different plans, and gave us humbling reminders of our limited control of how things unravel, and our need to stay agile and roll with the punches. Barbershops shutting down hit our wholesale partners hard, which of course hit our wholesale business. At the same time, in our supply chains, sourcing our materials became more challenging. We felt it important to do what we could to support the folks who've supported us over the years so we tried to find ways to get them better pricing on products, to support in any way we could, but at the same time were navigating our own challenges. With the onset of the covid-19 pandemic, hand sanitizer was becoming hard for many of our customers to find, and we felt a responsibility to utilize our supply chains and systems to develop our own, and create supply while finding ways to use it for good. The pandemic hit businesses hard, consumers hard, and left healthcare workers fighting the virus on the front lines with very limited PPE and resources. We began selling our hand sanitizer as a means to help supply health care facilities and workers, donating one hand sanitizer to healthcare workers for every hand sanitizer we sold. This brought in revenue to keep things moving, and allowed us to help get hand sanitizer to folks that needed it at home and in healthcare on the front lines. It was a win win for all involved. That hand sanitizer is still available on our site for as long as we feel its needed, and we're continuing to maintain the donation initiative. All the while we've still been cranking out batches of our handmade pomades and hair products. All with meticulous sanitation and precautionary measures in our facility, and shipping out to our customers. 
Throughout this pandemic we've still been able to connect with our customers, but in very different ways. Connecting via events was certainly not in the cards, but we've strived to create connections in our communications and we feel we've gotten to know so many of our customers better in some ways. In many ways we've become closer in our distance. We've learned ways to be creative and agile to extents even greater than we ever had. Customers have supported local, sought out ways to support. We've found some goodness and positivity in the midst of such dark times. We're far from through this, and we know our barber community, hair community, and our direct customers are not through this yet either, but we can't help but feel a togetherness in these times that we believe will help us all through. Cheers to 2021 being a year of reflection, on the implementation of lessons learned and the perspective 2020 has given us. There's a lot of power in togetherness, when we all come together to support each other, and to navigate challenging times as these.